Vegetables – 4 portions
Servings
4 persons,
Preparation time
8 minutes,
Cooking time:
15 minutes
Ingredients
200 g courgette and/or aubergine
1 yellow bell pepper
2 tomatoes
1 onion, peeled
1 clove garlic, crushed
2 teaspoons dried Provençal herbs
Freshly ground black pepper
1 tablespoon olive oil
Small, round baking dish, 16 cm diameter
Directions
Preheat the AirFryer to 200°C.
Cut the courgette, aubergine, bell pepper, tomatoes, and onion into 2 cm cubes.
Mix the vegetables in a bowl with the garlic, Provençal herbs, ½ teaspoon salt and pepper to taste. Also spoon in the olive oil.
Put the bowl in the basket and slide the basket into the AirFryer. Set the timer to 15 minutes and cook the ratatouille. Stir the vegetables once when cooking.
Serve the ratatouille with fried meat such as entrecôte, or a cutlet.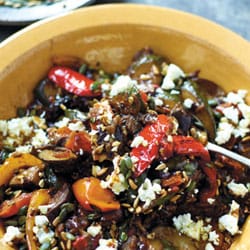 Our site can best be viewed with the latest version of Microsoft Edge, Google Chrome or Firefox.