Side dish – 4 portions
Servings
4 persons,
Preparation time
10 minutes,
Cooking time:
20 minutes
Ingredients
800 g waxy potatoes
2 tablespoons olive oil
1 tablespoon spicy paprika
Freshly ground black pepper
150 ml Greek yoghurt
Directions
Preheat the airfryer to 180°C. Peel the potatoes and cut them into 3 cm cubes. Soak the cubes in water for at least 30 minutes. Drain them thoroughly and then pat them dry with kitchen paper.
In a medium-sized bowl, mix 1 tablespoon olive oil with the paprika and add pepper to taste. Coat the potato cubes with the spicy oil.
Transfer the potato cubes to the fryer basket and slide the basket into the AirFryer. Set the timer to 20 minutes and fry the potato cubes until they are golden brown and done. Turn them every now and again.
Mix the Greek yoghurt in a small bowl with the remaining spoonful of olive oil and add salt and pepper to taste. Sprinkle with paprika. Serve the yoghurt as a dip with the potatoes.
Serve the potato cubes in a platter and sprinkle with salt. Delicious with a rib eye or with kebabs.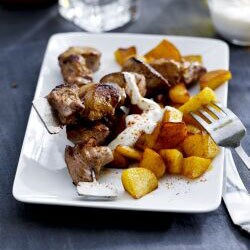 Our site can best be viewed with the latest version of Microsoft Edge, Google Chrome or Firefox.